About us
We are an award winning, family-friendly, non-profit, theatre & film company, with an offshoot actors agency, from the beautiful fishing port of Brixham; Devon (in South West England).The South Devon Players is a team of ambitious, dedicated, semi-professional, and professional performers, who are working on creating careers in theatre and film. We always welcome new members of our team who share our ethos, and who, regardless of previous experience, want to join a lively, friendly, hardworking team of performers, hone old skills & develop new ones, and create high quality new stage and film productions.
We perform theatre shows in Brixham, around Torbay, and South Devon, based on historical events, classical stories and mythology. We also make period drama films and web-series productions, around Devon and Cornwall. for online broadcast.
We also run a casting agency for experienced, vetted, local actors as well, as a service to people in the local area. This is fee-free . Any funds raised by the agency service go back into our productions and projects.
We were founded in late 2005 by two Brixham performers, and performed our first production in the summer of 2006. Since then we have gone from strength to strength, and are now growing rapidly, with awards won and a rapidly increasing member base, an appearance on a national BBC 1 TV programme, and sponsorship from London for our recent non-musical adaptation of Les Miserables.
We are members of NODA (the National Operatic & Dramatic Association), and Brixham Chamber of Commerce.
Feedback about the group.

"It was lovely to see Brixham history brought to life and celebrated in this way"
___________
"We are really enjoying rehearsals by the way, everyone's so friendly. You're very good at directing. "
___________
"This is one of the best groups I have had the pleasure to perform with, and community theatre has always been very important to me as a means for anyone to express and develop their talents in a friendly and supporting atmosphere."
____________
"This group is one of the best I have ever seen performing"
____________
"Whenever I think you guys can't outdo yourselves with  costumes you guys go and outdo yourselves times 1000, haha! =] You all always look so great!"
_________________________________________________________________

Join our email mailing list at http://www.southdevonplayers.com/join-mailing-list.html
The SOUTH DEVON PLAYERS central weblinks
Our main website: http://www.southdevonplayers.com
Our facebook page: https://www.facebook.com/sdevonplayers
Our facebook discussion group: https://www.facebook.com/groups/southdevonplayers
Our Twitter: https://twitter.com/sdevonplayers
Offers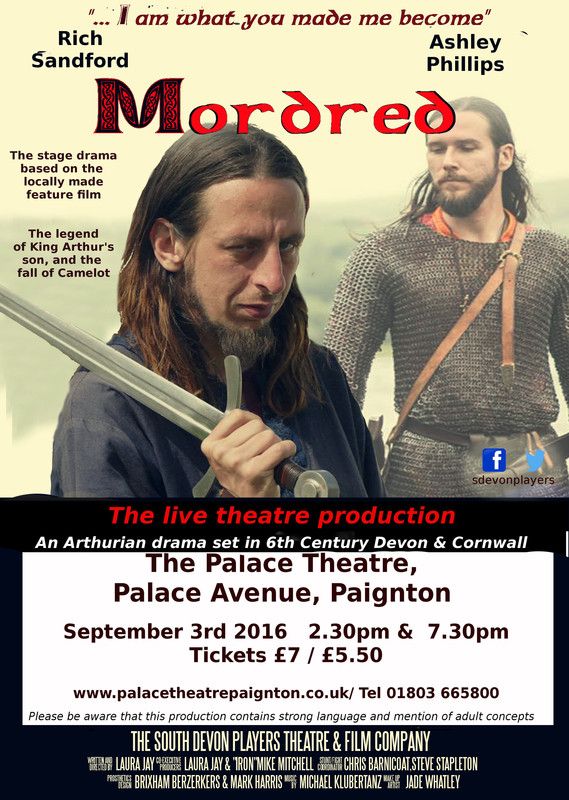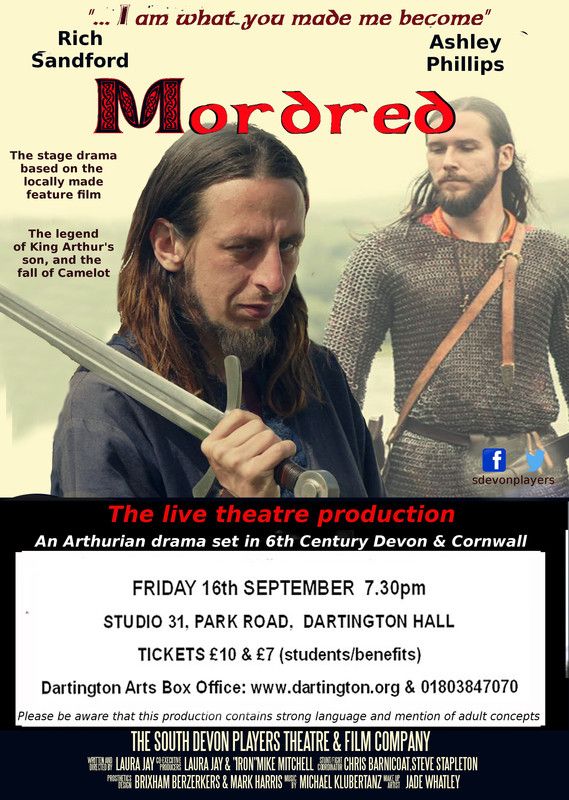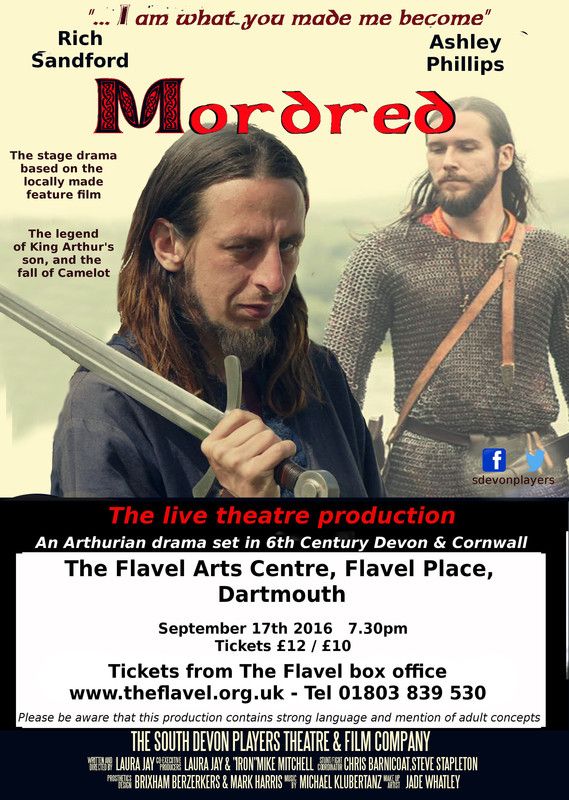 Mordred is a feature film and theatre production, being directed by Laura Jay, one of our founders.
A gritty, dark tale, Mordred is an Arthurian-era drama, heavily influenced by the earliest legends of Mordred, who is traditionally seen as King Arthur's arch-nemesis, and illegitimate son. In the earlier legends, Mordred is much more of an ambiguous character, and not pure evil, as in modern re-tellings, this film and theatre show tells of the legends, from Mordred's point of view.
This drama is set in the 530s, against the backdrop of the Saxon invasions, heavily influenced by Celtic legends and Druidic traditions, and the earliest tales of Arthur, and his followers. The film will be made across South West England, with as much use as possible of actual Arthurian locations, and ancient sites, in Devon and Cornwall. The theatre shows will be performed in South Devon (as a certainty) and we will also be looking to perform in Cornwall, as well.
Open auditions will be held Sunday Feb 28, 2016, 4.30pm , Chestnut Community Centre, 1 – 3 Poplar Close, Brixham, TQ5 0SA
Unfortunately we will not be able to accept video submissions. Attendance at auditions must be in person.
Please visit our auditions page for an overview of what to expect at our castings. http://www.southdevonplayers.com/auditions.html
The project runs as a profit share production, as per the terms set out on our website.
All named cast will be fully credited on IMDB
Anyone under the age of 16, must be accompanied at all castings, rehearsals and filming/ performances, by a parent or legal guardian.
Most of the ladies will be involved in fight/ battle scenes, fighting alongside the men, especially in the Saxon raids, and at Camlann, and mandatory combat training will take place in Brixham at the community centre for all relevant successful cast. If you have a physical reason that this would not be possible, please email us to discuss first. southdevonplayers@gmail.com
As this a theatre show as well as a film, rehearsals for the stage show will take place on Wednesday evenings and / or Sundays afternoons, at Chestnut Community Centre, 1 – 3 Poplar Close, Brixham, TQ5 0SA


Feb 25th 2016, 2pm
Karing Voluntary Group, 260 Torquay Road Preston Paignton Devon TQ3 2EZ
Entry by donation. It is very important to book in advance as seating is limited to 30 attendees.
This will be taking place as a lunchtime/ early afternoon talk.
Please book tickets in advance by calling the Karing office on 01803 524799 or
popping into the Karing office in person.
More information on the Karing Voluntary Group:
http://www.karing.org.uk/
(KARING is a registered charity operating in the Preston district of Paignton, Devon. We are a voluntary group providing transport, social activities, support and information to the elderly, frail and sick patients of Pembroke House Surgery and local area.)
_____________________________________________________
The South Devon Players Theatre & Film Company, a Torbay based team, who have specialised in creating theatre and film productions based on history & legends, frequently those of the Southwest, present a lively talk
" Creating theatre and film from southwest history & legends"
The challenges,
The rewards,
The problem solving
The benefits to local performers & local culture
and much more
(More information on the South Devon Players: http://www.southdevonplayers.com/ – Facebook/Twitter/Instagram:@sdevonplayers)
We can now confirm that many of our members, who are in our 20 hour film series Les Miserables, are appearing at this film and TV convention, alongside stars from such shows as Game of Thrones, Doctor Who, Star Wars, etc. We will be there both days, with our panel talk on Sunday.
If you want to come and meet us at the event, book your tickets now, at http://www.optimusconvention.com/
More information on us, our projects, including the Les Miserables film series, can be found on our website http://www.southdevonplayers.com
___________________________________________
Theatre drama: Survivors of the Titanic, Paignton & Brixham performances, Sept 2015
Historical theatre drama production about the Titanic, and her links to south Devon.
Survivors of the Titanic will be performed in Paignton and Brixham, in September 2015, with tickets going on sale by the end of April for this production. With a beautifully costumed production by a group experienced in performing historical drama, and a huge age range of performers, this show will bring a new adaptation to the stage, and hopefully create wider interest in this little know and under-remembered part of Devons sea heritage.
Performances at
Palace Theatre, Paignton: 7pm, Friday Sept 18th.
ADDRESS: Palace Avenue, Paignton TQ3 3HF
Tickets are £6 adults and £5 concs
The Edge, Brixham: 3pm and 7pm Saturday Sept 19th.
ADDRESS: Bolton Street, Brixham, Torbay TQ5 9DH
Tickets are £6 adults and £5 concs
Ticket information and bookings via
http://www.southdevonplayers.com/box-office.html
Video trailer for the show
https://www.youtube.com/watch?v=kNFga1A4H9s&feature=youtu.be
_______________________________________________
Following a ten-year history of researching, writing and performing historical and period dramas, the South Devon Players theatre & film company from Brixham, in Torbay, south Devon, the Players are now bringing to life one of the most famous sea disasters of all time, with a new stage production, Survivors of the Titanic. This drama follows the stories of various crew members and passengers on board the liner, and how some of the surviving crew, including those with links to Devon and Cornwall, were returned to Plymouth on board the SS Lapland, arriving at Millbay Docks, before travelling on by train to Southampton. This is but one of the fascinating links between Plymouth, and the Titanic, and we have been lucky enough to receive a great deal of historical research and support from local historian Nigel Voisey who is championing this aspect of Devons history.
The South Devon Players Theatre Company are members of both the National Operatic and Dramatic Association (NODA) and of the Brixham Chamber of Commerce.
Join our email mailing list at http://www.southdevonplayers.com/join-mailing-list.html
The SOUTH DEVON PLAYERS central weblinks
Our main website: http://www.southdevonplayers.com
Our facebook page: https://www.facebook.com/sdevonplayers
Our facebook discussion group: https://www.facebook.com/groups/southdevonplayers
Our Twitter: https://twitter.com/sdevonplayers
Open auditions for Les Miserables web-film series (Brixham) Dec 14th Male roles only
These auditions are for the following named male characters only.
(L indicates a large role appearing over more than one episode. )
Please be aware that you need to attend the audition in person. You may email in advance for audition pieces.
Félix Tholomyès
Gavroche L
Inspector Javert L
Fauchelevent L
Bamatabois
Mestienne
Gribier
Colonel Georges Pontmercy
Montparnasse
Claquesous
Gueulemer
Babet
Combeferre L
Jehan Prouvaire L
Bahoral L
Joly L
Bossuet L
Marius L
Young Valjean
Auditions per person will last around 10 – 15 minutes, where you will be expected to read a familiarised script piece. We will be looking for characterization, mannerisms, and the ability to take direction.
Marius, Combeferre, and Javert will also be required to take part in filming for the funding trailer, with short scenes, at the end of this (2014-15) winter.
Project website:
http://lesmiserablesfilm.weebly.com/
Project email:
lesmisseries@gmail.com
Audition venue address:
Chestnut Community Centre, 1-3 Poplar Close, Brixham, TQ5 0SA
A note from Laura (producer)
Ric and I are still sorting precise castings for the people who came to Les Mis auditions at the Theatre Royals TR2 studios. However, we are definite that the above male roles still need to be filled as we didn't find the ideal fit.
If you have already auditioned, then you do not need to attend this audition.
____________________________________________
Overall, this is a three year project, with filming taking place for each crowdfunded episode, over a few days, after funding has been raised. During filming days, shoots could be an early start to late finish, and for relevant characters also include night-time shoots. A lot of locations will be in and around Devon and Cornwall in the UK, some locations in France, especially for later episodes, will be looked into as well.
This is a pretty different project, as it is based on Victor Hugo's UNABRIDGED novel (this is not the musical or a single feature film!) and we are remaining as faithful to that unabridged novel as is possible.
Due to the nature of crowdfunding we are hoping to be able to pay our performers, but this depends entirely on funds raised, and may alter episode by episode as the series gets more well known, but at the minimum, once you have been cast as a character in the series, your expenses will be covered.
Depending on what character you wish to audition for, and are cast as you may be required for several episodes (or indeed all of them), or simply one.
HOW TO AUDITION:
Please contact us with a photograph, and a few words about the kind of role you are looking for. We will send you an audition pack and audition pieces suitable for your appearance. Please note that you do not need to learn the parts, just familiarise yourself with them.
At the auditions, you will be asked to perform the piece on video camera, as a screen test. We will be looking at your characterization, focus, and the realism of your portrayal of the character. We also will be looking at how you take direction, and interact with other people.
There are several child roles, but all children MUST be accompanied by a parent or guardian at all times.
Please be aware that we cannot accept auditions or applications via email or video. In order to be considered for a role, you need to attend in person.
THERE IS NO FEE REQUIRED FOR YOU TO AUDITION OR BE INVOLVED IN ANY WAY, THIS IS A GENUINE PROJECT NOT A SCAM.
*************************************************************
USEFUL LINKS:
– Read Victor Hugo's unabridged novel online (or get the free ebook) http://www.gutenberg.org/ebooks/135 (you will probably want to do this if you get in, anyway.
– Our film project website (being updated): http://lesmiserablesfilm.weebly.com/
– The film facebook fan page:
https://www.facebook.com/lesmiswebseries
– What we expect of performers: http://lesmiserablesfilm.weebly.com/get-involved.html
– List of characters being cast for: http://lesmiserablesfilm.weebly.com/casting.html
– Our main theatre company website:
http://www.southdevonplayers.com/
– The South Devon Players facebook page: https://www.facebook.com/sdevonplayers